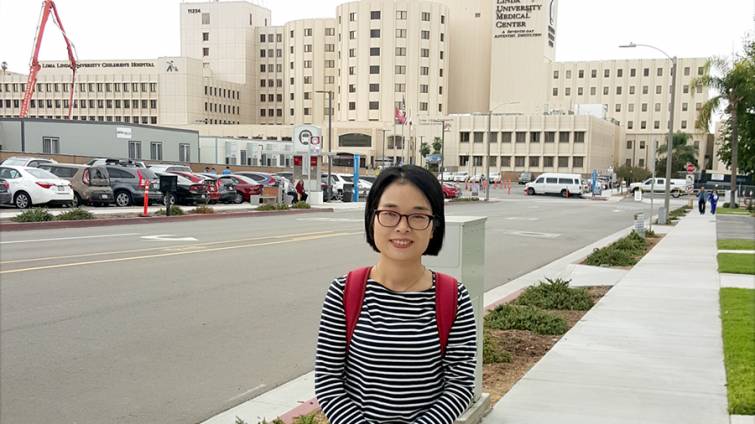 By djpotts - September 11, 2018
By Larry Becker
A new School of Behavioral Health program offering pediatric nurses from the People's Republic of China the opportunity to complete training as Child Life Specialists launched in Fall 2017. The new program is an outgrowth of a four-year series of education exchange visits the School of Behavioral Health faculty members and students have made to the Zhejiang University Children's Hospital (ZUCH), introducing nurses there to the benefits and value of child life services.
Nancy Wu was the first ZUCH nurse to enroll in the new program. She has had a strong interest in studying child life approaches since first being exposed to the field during a visit to Seattle Children's Hospital in 2014. She also served as one of the translators for the presentations made there by the visiting Loma Linda University Health groups. ZUCH leadership supported her desire to take advantage of this new SBH educational program.
"There has been a shift in China to becoming more open to family-centered care," said Michelle Minyard-Widmann, program director for the child life specialist master's program. "Building on a working relationship that started in 2007, Zhejiang University Children's Hospital and Loma Linda University have established strong partnerships. It was a natural extension of that partnership for us to visit and introduce child life techniques."
Minyard-Widmann and Alisha Saavedra, assistant professor, first visited Zhejiang University Children's Hospital in 2014, where they shared the concepts of family-centered care and support for hospitalized children to the nurses there. Those conversations led to a second visit by SBH faculty and students in Fall 2014. The group offered several lectures and hands-on demonstrations of Teddy Bear Clinics, therapeutic play with stuffed animals designed to help children understand hospital procedures they faced. Loma Linda University students and faculty have returned to ZUCH annually.
A foundation grant to the ZUCH nursing staff resulted in initial steps to establish a child life program there. At the time there was only one child life specialist working in the People's Republic of China. Conversations among ZUCH leaders, the Loma Linda University Global Health Institute, SBH leaders, and the LLUCH child life manager led to the creation of this groundbreaking program.
"I've learned many valuable techniques here," Wu said. "The type of language used with parents and children is important. I've also learned techniques to guide parents and children through the procedures they face, and the importance of clearly explaining the medical technology to help relieve their fears."
Wu completed the six-month program designed to meet the specific needs of visiting Chinese nurses in March. She spent three months on classroom theory, followed by a three-month internship. The Association of Child Life Professionals, the national accrediting body, is aware of Loma Linda University's efforts and is supportive.
Wu passed the Child Life Professional Certification Examination in late March and returned to China in April as the second Certified Child Life Specialist in mainland China. She plans to share much of what she learns with the nursing team at ZUCH.
Wu will begin training a child life team of 30 nurses, focusing on the services they can offer. "We can't just depend on one or two people," Wu said. Those 30 nurses will go back to their units and serve as teachers to many more nurses. Wu hopes to encourage Zhejiang University to build a child life degree program."
According to Minyard-Widmann, interest in the program is beyond expectations. Future growth for the program will be determined by access to internship slots. But the effort started strong.
"It was easy to have Nancy here because she has embraced the concepts," Minyard-Widmann said. "She demonstrated a fire and a spark that made it easy to bring her here."