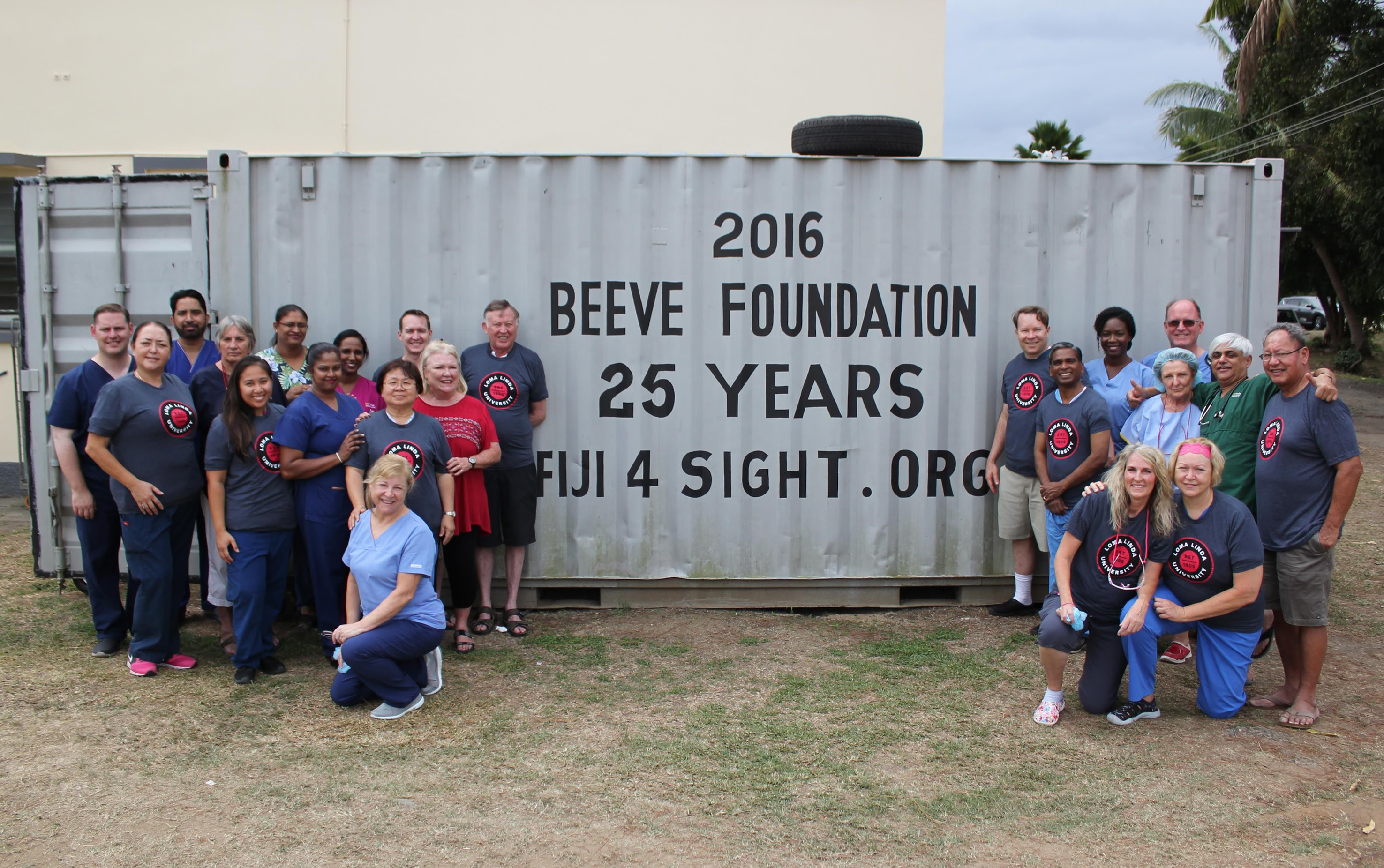 By djpotts - November 2, 2018
By DonaJayne Potts
The head of ophthalmology at Loma Linda University Health assembled a team of cataract surgeons to perform corrective eye surgeries in Fiji, a country where vision care and glasses are limited and procedures to restore eyesight aren't common.
Michael Rauser, MD, department chair of the Loma Linda University Eye Institute, and a team of world-renowned cataract surgeons traveled to Nadi, Fiji, last month to perform 137 surgeries in six days.
According to Rauser, the group performed 135 cataract surgeries, one pterygium removal and one ectropion repair at the Nadi Hospital Eye Clinic. He said debilitating eye conditions like these are often left untreated as surgical treatment is not typically available on the islands.
"By unofficial records, our surgical team and ancillary staff completed the most cases in one week ever seen in Fiji," Rauser said. "Our inaugural mission trip in partnership with the Beeve Foundation was a resounding success."
The Beeve Foundation, established in 1991, was the inspiration of Jerold E. Beeve, MD, FACS, a graduate of Loma Linda University School of Medicine and accomplished ophthalmologist in Glendale, California. 
In 1989, while on a honeymoon trip to Fiji with his wife, Dorothy Beeve, RN, the couple was astounded by the high incidence of eye problems and serious vision impairment afflicting locals. Due to the sun's constant glare, lack of sufficient eye protection and accessibility to vision care, both children and adults are subject to cataracts that cause complete blindness, often resulting in total dependency.
In subsequent years, the Beeves returned to remote regions of Fiji, bringing along other medical professionals to provide free eye care for the underserved — ranging from vision testing to sophisticated surgical procedures.
Since the first organized mission trip, the foundation and its medical team has aided approximately 3 percent of the country's population, offering 28,603 eye exams, 27,714 pairs of eyeglasses, 1,756 cataract extractions with lens implants, 55 corneal transplants and 1,005 other vision procedures.
After Beeve's retirement in 2017, the family was unable to support the foundation and asked Loma Linda University Health to continue the important work the couple started over a quarter-century ago.
The Eye Institute at Loma Linda University, was the family's first choice for a successor, Rauser said. Loma Linda University is not only the alma matter of Jerold Beeve, MD, class of 1967, and ophthalmologist son, Scott Beeve, MD, class of 1996, but Jerold's wife, Dorothy, also has connections to the university. She is the daughter of the late Colby W. Dunscombe, MD, class of 1936, a medical missionary and founder of Bella Vista Hospital, a Loma Linda University Health partner site in Mayaguez, Puerto Rico. 
The Beeve family says it has been hard to step back from their calling to serve the Fijian people but are reassured that the foundation is now in the capable hands of a Christ-centered, mission-focused institution like Loma Linda University Health.
"2018 marks a new beginning for the Loma Linda University Health Beeve Foundation," Rauser said. "We are already planning an even larger effort to serve the Fijians next year."
To donate to the Loma Linda University Health Beeve Eye Fund visit the advancement website or view the donation flyer to learn more.