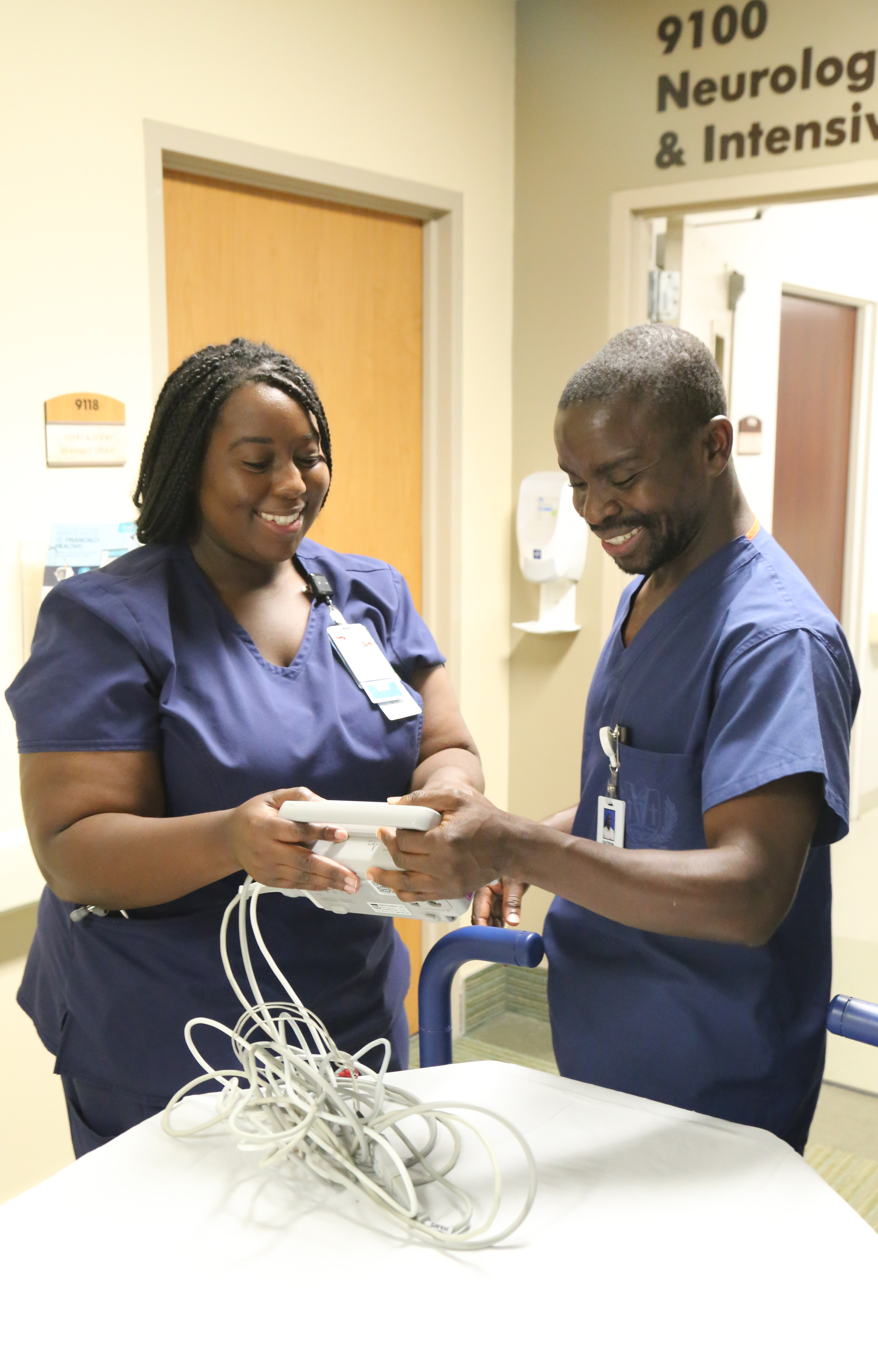 By rpd_sarah - August 4, 2017

LLUH Nursing Staff Mentors one of Malawi's First Intensive Care Unit Nurses
African nurse takes part in the International Professional Program to improve patient care in Malawi
By DonaJayne Potts
Felix Batson, RN, a visiting ICU nurse from Blantyre Adventist Hospital, Loma Linda University Global Campus-Malawi, experienced first-hand how lives can be saved with updated Basic Life Support training. During a rotation on the Medical Intensive Care unit at Loma Linda University Medical Center, a woman collapsed, suffering from a cardiac arrest. Batson witnessed a team of nurses spring into action and perform a one-hour resuscitation on the victim. "They were able to stabilize the patient and I left the hospital that day knowing how to save a life," he said.
In the African culture of medicine, doctors typically take the lead in responding to a code. Here at Loma Linda University the nurses start life support immediately, Batson said. "I have been empowered, I will return to my country with great confidence, knowing that I too can save lives."
The Global Health Institute's International Professional Development Program (IPDP) provides international medical professionals and licensed clinicians an opportunity to broaden their understanding of health care. It is a unique, non-degree program where participants are allowed to observe and experience a variety of innovative practices that are not being performed in their country's hospital. Visiting professionals are expected to return to their home institution and implement what they learned, sharing their knowledge and experience with colleagues.
During his mentorship, Batson received a variety of life support training classes including: Basic Life Support (BLS), Basic Arrhythmia Recognition and Treatment (BART), Advanced Cardiovascular Life Support (ACLS), and Stroke assessment and management using the Stroke Risk Assessment Tool (SRAT).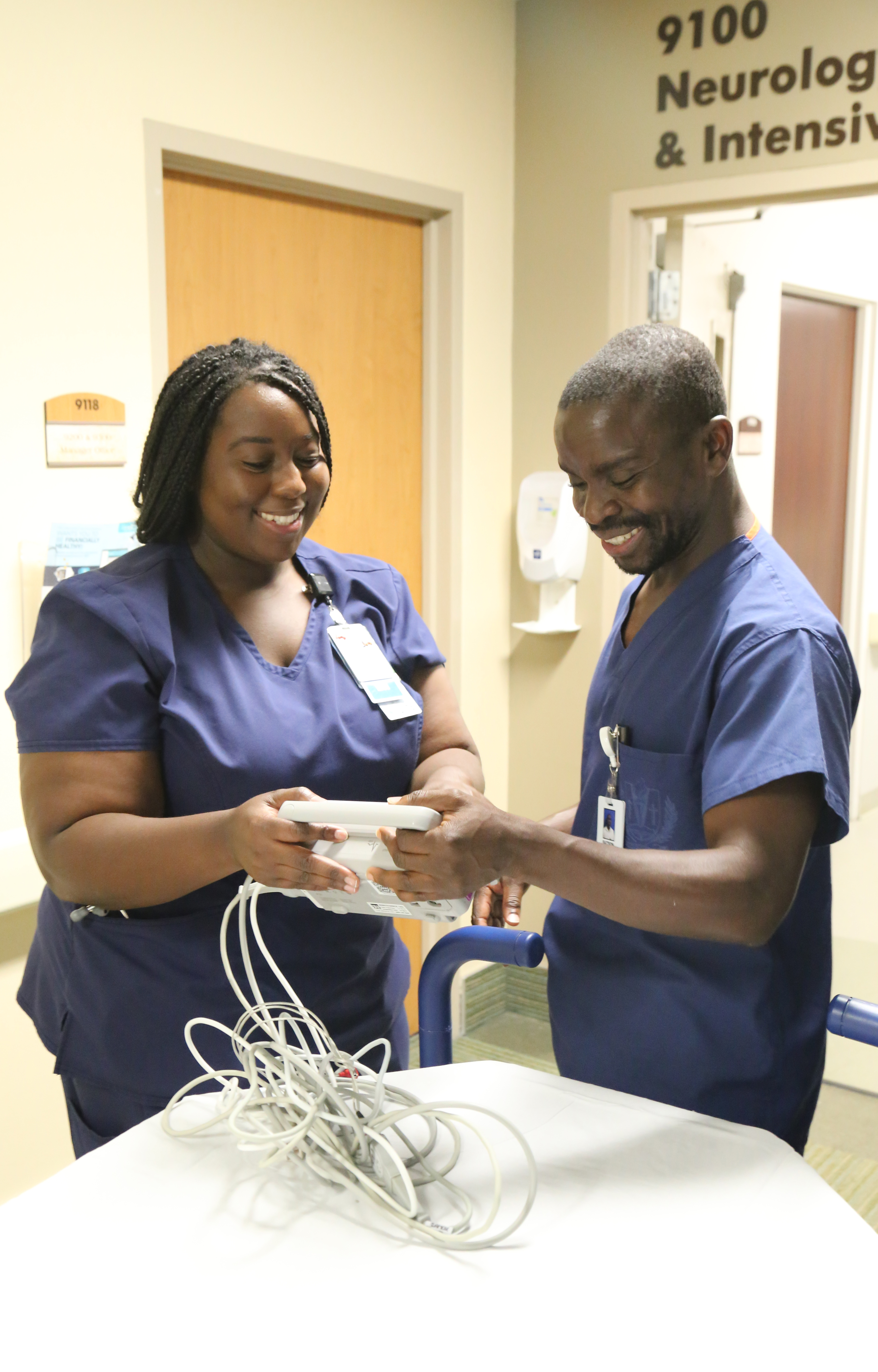 Unit 9100 nurse, Patricia Zatelia, RN, left, demonstrates a portable telemetry machine to visiting ICU nurse Felix Batson, RN.
Debbie Nkumba, RN, MSN, CNS, critical care educator, at the Loma Linda University Health staff development department, was recently reunited with Batson, a nurse she taught in Malawi over 6 years ago.
In 2011, Nkumba had returned to her country of origin, Malawi, Africa, to educate critical care nurses who were to staff one of the first and most advanced Intensive Care Units in the country, and Batson was one of her students in training.
Nkumba, a critical care nurse and educator for the past 15 years at Loma Linda University Health, was the instructor for a BART class attended by a group of visiting international health care professionals this past July. She immediately recognized Batson as one of the attendees and was eager to see his progress.
"I saw significant growth in Batson, his critical thinking and thought process skills have greatly improved," says Nkumba. He did well on all of his exams and seems more confident in his nursing abilities, she said.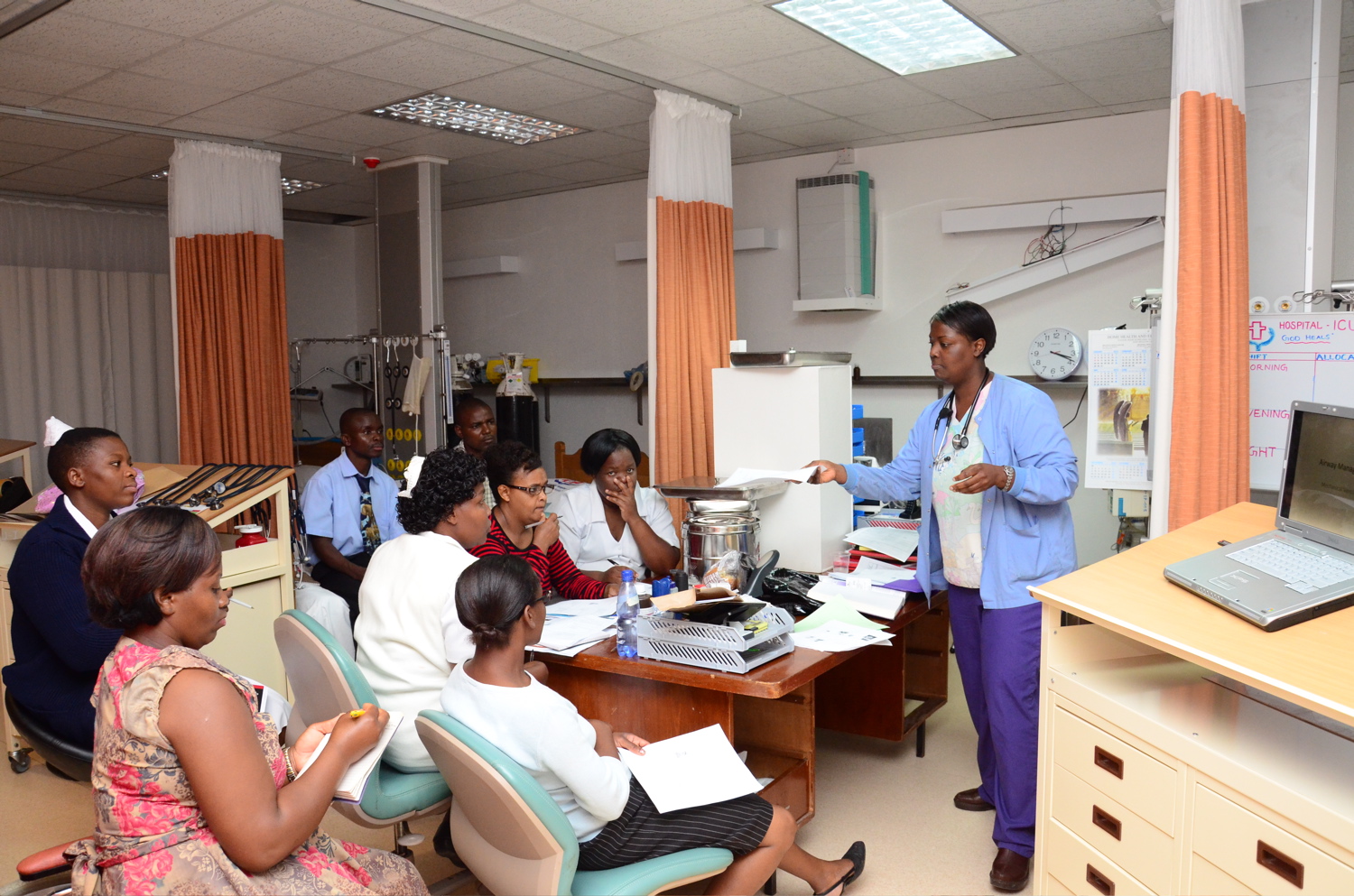 Debbie Nkumba, RN, MSN, CNS, right, instructs a group of nurses at Blantyre Adventist Hospital, Malawi on critical care in 2011.
Since the inception of the International Professional Development Program in 2013, staff members of Loma Linda University Health have mentored 749 international visiting professionals from 20 different countries.
"Loma Linda is wonderful" Batson exclaims. The staff are so warm and welcoming and they don't mind explaining medical processes in much detail, they want to make sure we truly understand, he said.
Batson was also impressed with how technology can impact the ability to identify and treat diseases among intensive care patients. He says, at home we have to just guess if someone has epilepsy, but with an electroencephalogram (EEG), a test that measures and records the electrical activity of your brain, you can see any abnormal brain activity.
He was particularly excited about seeing a dialysis machine. In our hospital, we have learned only theoretically about dialysis, to see a patient being treated by this machine was "absolutely fascinating," he said.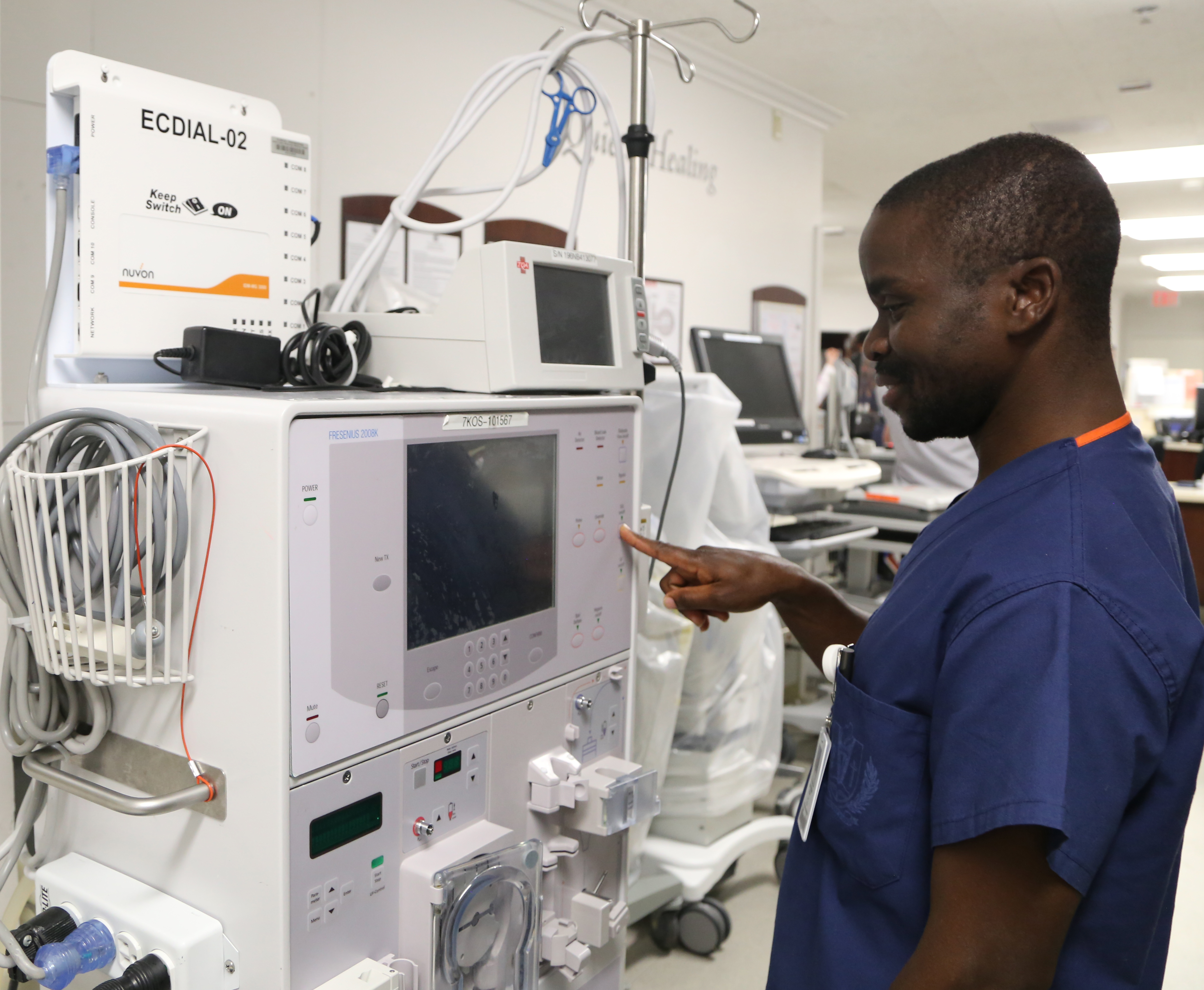 Felix Batson, RN, marvels at a dialysis machine, a device he has only read about.
Getting a chance to see innovative technology wasn't the only highlight of his experience. "Loma Linda has changed how I will care for patients," Batson said. I know how to better communicate and I will provide them with a higher level of hygiene and personal care, he said.
Derek Hidalgo, MBA, RN, BSN, director of patient care MICU/SICU/Neurology, believes that his nursing staff benefited in many ways too from Batson's visit. It was amazing to have his perspective, sometimes our nurses can forget what nursing is like outside the unit, Hidalgo said. "We are so blessed to have emerging medical technology, advanced health care systems, and a team-oriented working environment which allows us to provide our patients with the best care possible."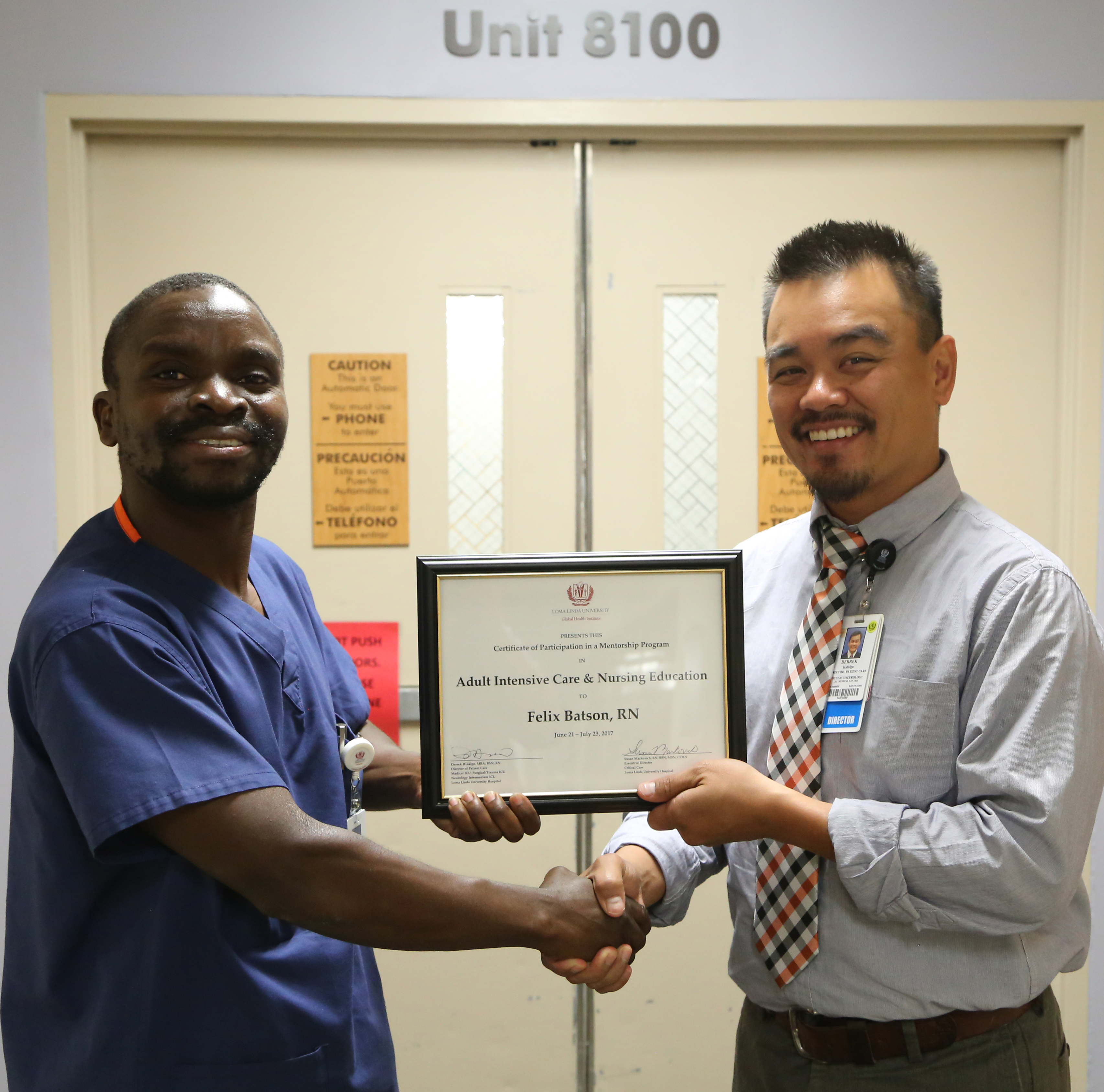 Derek Hidalgo, MBA, RN, BSN, director of patient care MICU/SICU/Neurology, right, presents Felix Batson, RN with a mentorship program certificate.
Batson is eager to share what he learned and observed at Loma Linda University Health with his peers and colleagues in Malawi. Nurses at the Medical Center are dedicated and highly motivated, I hope sharing what I have experienced will inspire my fellow staff, just as I have been inspired, he said. "I will return home with a stronger sense of what a nurse is and what they can do."