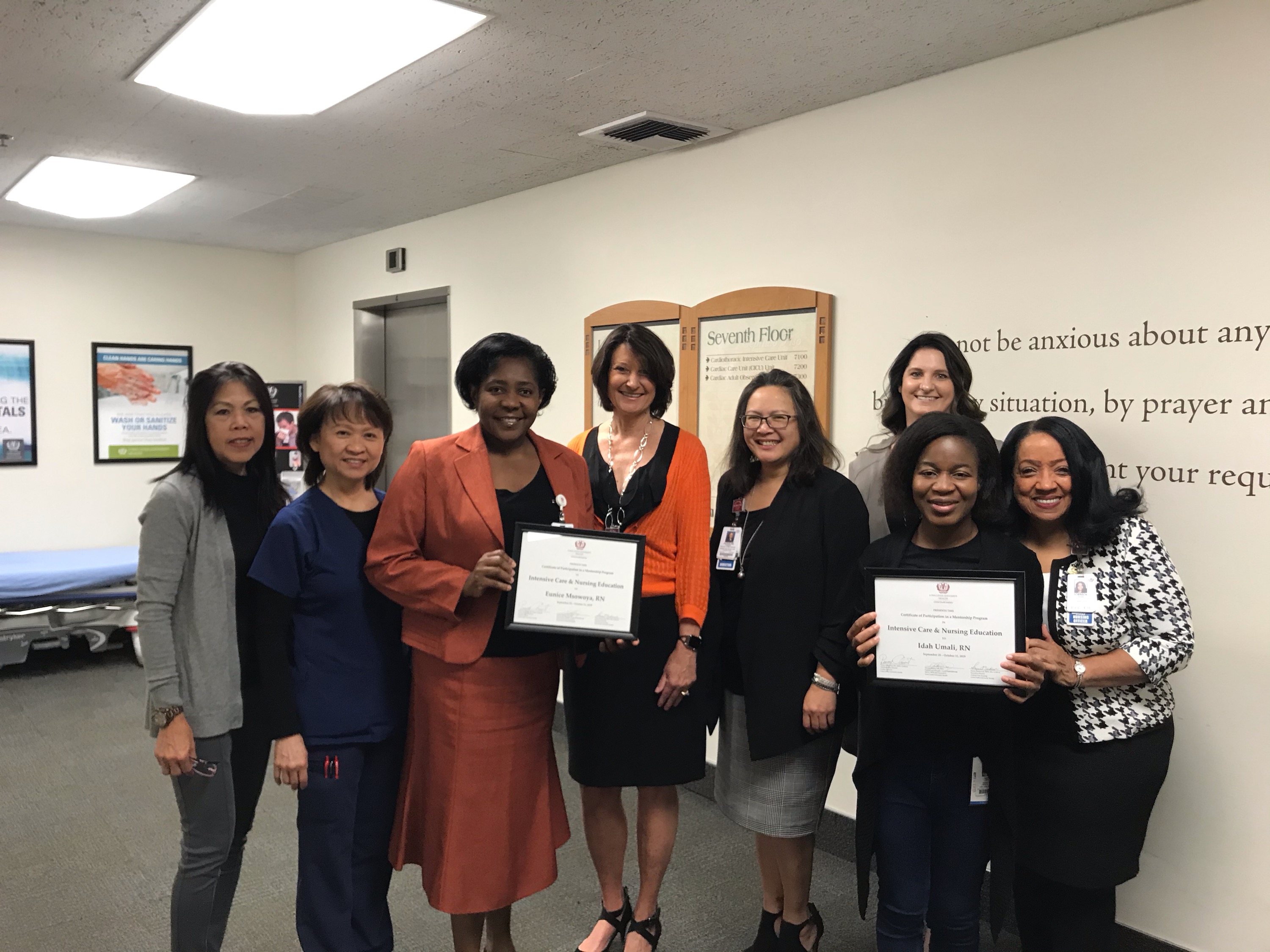 By djpotts - July 8, 2020
Bing Frazier (left) with international nurses from Blantyre Adventist Hospital in Malawi, Africa, and nursing staff from Loma Linda University Health.
The program manager for International Professional Development at Loma Linda University Health's Global Health Institute, Bing Frazier, received the "2020 Friend of Nursing Award," recognized by the World Health Organization (WHO).
In honor of the 200th anniversary of the birth of Florence Nightingale, the WHO has designated 2020 as the "International Year of the Nurse and Midwife," recognizing the critical role and outstanding contributions of nurses and those who support nurses all over the world during this year-long celebration.
The International Professional Development program at Loma Linda University Health provides healthcare professionals and administrators from other countries, an opportunity to increase their knowledge through the observation of advanced techniques and procedures related to their field of expertise.
Frazier was presented with the award in June, by the Honor Society of Nursing Sigma, local chapter Gamma Alpha at Loma Linda University School of Nursing.
Iris Mamier, PhD, RN, past president and chair of the Gamma Alpha Award Committee 2020 said with this award the members of the Board of Directors of Sigma Gamma Alpha Chapter expressed their deepest respect and sincere appreciation for Frazier's exemplary support of global nursing.
"Frazier's work in facilitating onsite fellowship experiences for healthcare providers from all over the world not only expands Loma Linda University's influence and mission exponentially but it also empowers nurses to move past perceived boundaries and traditional conventions," said Mamier.
Time and again she has demonstrated a vision for the nursing profession with remarkable clarity, Mamier remarked. She thinks creatively, envisions and creates opportunities rather than being bogged down by fear and scarcity mindsets, Mamier continued.
"Frazier is an inspirational leader who has shown a heart for nursing not only when the profession is celebrated in the headlines but also when it is seemingly forgotten in the background," Mamier said. "We have been touched and encouraged by her example of faithful service of 22 years, which has led to lives saved and transformed around the globe."
Frazier said she is grateful for the ongoing support of nurse leaders, staff and School of Nursing faculty. "Their willingness to allow international nurses to observe and have meaningful learning experiences has had a life changing impact," said Frazier.