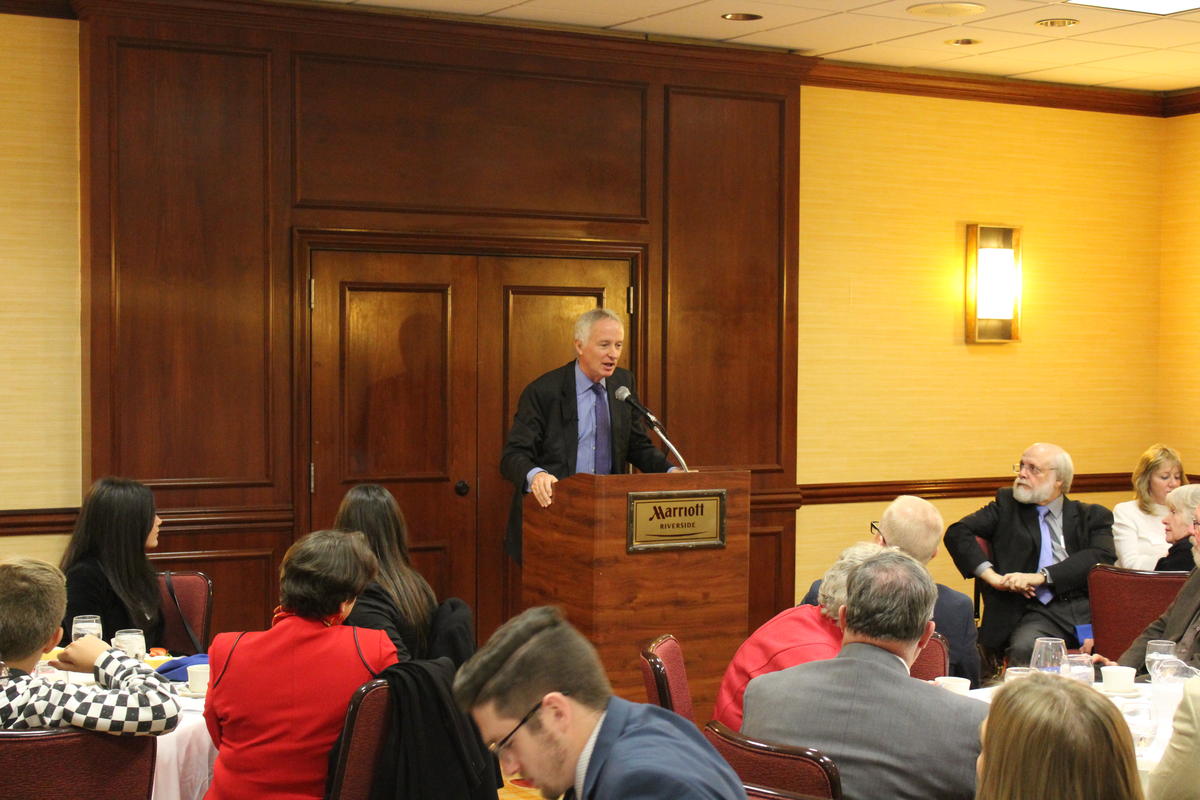 By djpotts - March 8, 2018
Former Ambassador to Pakistan - and Southern California native - Cameron Munter visited Riverside last week for an event hosted by the World Affairs Council.  KVCR's Benjamin Purper was there and has this report.
By Benjamin Purper
Before his retirement in 2012, Cameron Munter was a career diplomat – the kind of person who spends their lives learning different languages and representing the U.S. government overseas. After teaching European history at UCLA for a couple years, Munter became a Foreign Service Officer and served in Eastern Europe and the Middle East. And his last, most high-profile diplomatic position was Ambassador to Pakistan under President Obama. 
I met Ambassador Munter at a hotel in Riverside last week. He was there to give a talk to the World Affairs Council of Inland Southern California, which describes itself as the "premier forum in the Inland Empire for discussion of national and international subjects." And Munter's no stranger to this area – he grew up in Claremont.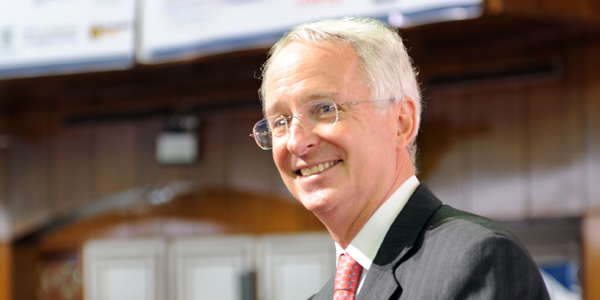 "I grew up in Claremont, went east to go to school, studied overseas as well, and then actually came back to Claremont after forty years to teach at Pomona College for a couple of years, which was a lot of fun," he said. "And so, Claremont's a place I'm very fond of."
Munter was ambassador to Pakistan during the raid that killed Osama bin Laden – and he says that made his job there especially difficult.
"When I was called in the next day after the raid, I was asked by the Pakistanis, 'Well, why didn't you tell us?' And I had to say, because we don't trust you. And that's never fun to do, you know, it's always fun to think of diplomacy as you're in a room where you're clinking glasses and you're talking about how much you agree about things. I spent a lot of the time when I was in Pakistan disagreeing with the Pakistanis."
I asked Munter about his thoughts on the State Department, whose budget has been substantially reduced by the Trump Administration. Many of the diplomatic posts are left unfilled, and don't look likely to be filled any time soon – the president said in November that he's "the only one that matters" when it comes to setting foreign policy. That's something that worries Ambassador Munter.
"What you need is all the people who fill in the gaps. At the State Department we have these terms like the Under Secretary and Assistant Secretary and Deputy Under Secretary, these are people who are doing the day-to-day work, and many of those slots are unfilled as well, in addition to the ambassador slots. This is the bread and butter of diplomacy. In diplomacy, you're not just giving a message from one president to another."
Munter says that undercutting diplomacy isn't just bad policy – it makes international conflict more likely.
"The Secretary of Defense, General Jim Mattis, with whom I worked in when I was in Pakistan, has said, 'The more you don't fill positions at the State Department, the more ammunition I have to buy.' What he says is, the way that you prevent yourself from having an unnecessary war is by having diplomats. And so this is not just a question of turf battles in a certain government agency, this is a matter of America's security and the hope that you can avoid a war through diplomacy. So it's a major, major problem."
The ambassador's talk at the World Affairs Council event was about what he calls New Diplomacy – the idea that traditional interactions between two countries, where ambassadors meet in official settings and talk things out, is no longer enough. In a globalized world, he says, diplomacy isn't just for diplomats anymore.
"If you're going to deal with these questions, you have to deal with them on a broader scale than just government to government. So, for example, you'll find that people at UC Riverside who go overseas and deal with their counterparts are acting as a kind of diplomat."
These days, Munter is the CEO and President of the EastWest Institute, a nonprofit that focuses on international conflict resolution. The institute tries to prevent conflicts before they happen, and if something does happen, they try to help mediate. Munter sees it as part of his idea of new diplomacy.
"We are in the diplomacy world, not the foreign policy world, at the EastWest institute. We're not telling people how to solve a particular problem. We're pulling them together and trying to figure out how they can do it themselves."
You can find out more about Munter's organization at eastwest.ngo, and you can find out more about the Inland World Affairs Council at wacinlandsocal.org.