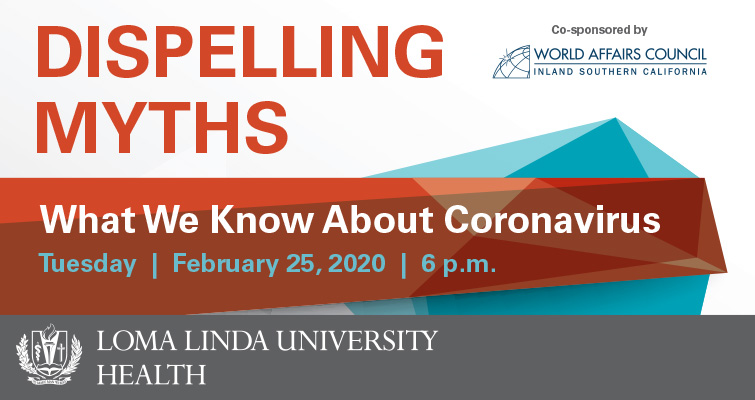 By djpotts - February 20, 2020
Join Loma Linda University Health as it presents "Dispelling Myths: What We Know About the Coronavirus" on Tuesday, Feb. 25, at 6 p.m. in Centennial Complex's Damazo Amphitheater. Experts from Loma Linda University Health and local county departments of public health will present.
The panel of experts will discuss the science behind COVID-19 and provide an update on Loma Linda University Medical Center's response to the evolving outbreak of this new coronavirus, which first appeared in late 2019 in China.
The panelists will also answer critical community questions about prevention, traveling and public health.
The panelists include:
· Adrian Cotton, MD, chief of medical operations, Loma Linda University Health
· Cameron Kaiser, MD, health officer for Riverside County Department of Public Health
· Erin Gustafson, MD, assistant health officer for San Bernardino County Department of Public Health
The event is co-sponsored by World Affairs Council Inland Southern California.
Attend in person or watch live. Admission is free and open to the community. Please arrive early for the event, as seating will be limited and is available on a first-come, first-served basis.
Can't attend? View a livestream of the event at Loma Linda University Health's Facebook page (facebook.com/LLUHealth).
Learn more: Dispelling Myths: What We Know about the Coronavirus