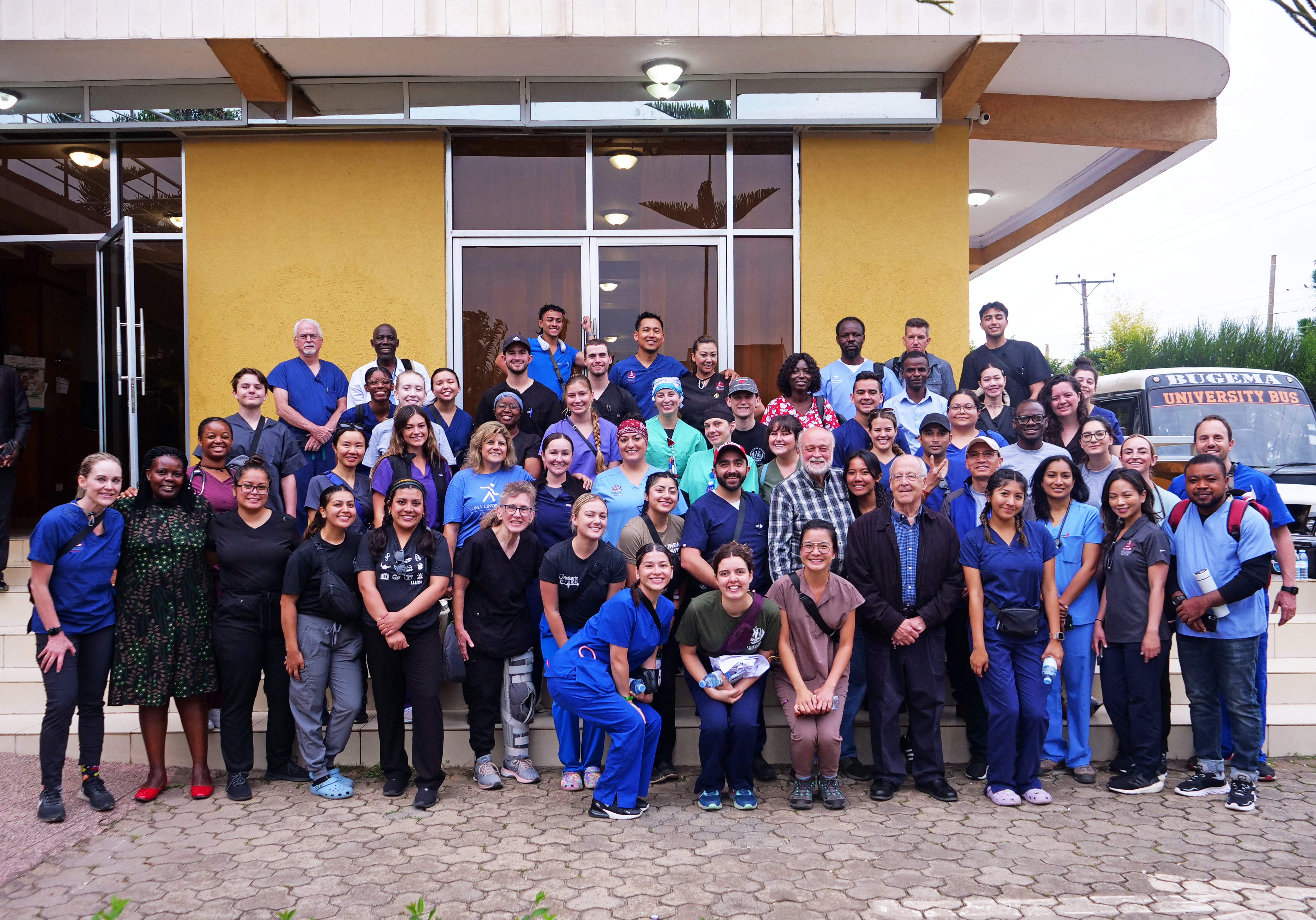 By QRobinson - August 23, 2023
80 LLU Representatives serve at medical mission camps in Uganda
Eighty faculty, students, and staff members from Loma Linda University (LLU), Nigeria, Malawi, and Nepa teamed up for a medical mission project in south-central Uganda June 19–23, 2023. Participants provided free care and performed surgeries at three medical camps —Ishaka Adventist Hospital (IAH), Bugema Adventist University Clinic (BUC), and in the city of Jinja.
Students represented the schools of Allied Health Professions, Behavioral Health, Nursing, Pharamcy and Religion. Alumni participants came from the schools of Medicine, Nursing and Dentistry.
The Uganda project continued Loma Linda University Health's historic commitment to support health outreach worldwide. Students for International Mission Service (SIMS) coordinated this project, one of approximately 10 trips SIMS organizes annually. Many SIMS trips support medical centers and clinics affiliated with Adventist Health International, a nonprofit management organization headquartered at Loma Linda. AHI's mission to support development and improvements at more than 40 Seventh-day Adventist mission hospitals in Africa, Asia and the Americas.
The project's 80 participants were split into three medical teams that provided free care and performed surgeries. They aimed to treat the region's most frequent diseases— malaria, typhoid, syphilis, diabetes, hepatitis, hernia, flu, and pneumonia. Team members also offered dental cleanings along with screenings for HIV, cancer, and sickle cell disease. The group had more than 12,000 visits across the three sites during the week, with more than 8,800 of those occurring at Ishaka Adventist Hospital.
Dominic Deandra, a 2023 graduate from the School of Dentistry, said the trip offered a chance to use skills and talents to give back to needy communities. 
"Service to me is coming together as a university and helping the less fortunate," Deandra said. "In the field, we were able to show the world why Loma Linda is a leader in service. As students, we get to put our learning to the test."
"Ishaka has touched my heart, and I hope I've touched theirs," Deanda added.
Heavy rains caused power outages and delays in assisting patients at the IAH site. Tensions were also on edge due to a high school massacre that occurred about 100 miles from the team's location on the border of the Democratic Republic of Congo. The Loma Linda teams were not in any immediate danger at any of the three service locations.
"To serve means trusting God to lead you where you need to be," said Christina Spykstra from the School of Nursing. "Hurdles may come about; jump over them and be there for those in need. To make a difference in people's lives in the ways we have in Uganda will forever be etched in my soul."
Before the three medical camps began serving patients, Richard Hart, MD, DrPH, Loma Linda University Health president, participated in the 75th-anniversary celebration of the Ishaka Adventist Hospital's founding. Drs. Mildred and Don Stilson, members of the School of Medicine's Class of 1946, started the hospital.
"This mission hospital has provided thousands with advanced medical care over the years," said Hart.
"Dr. Mildred Stilson, age 102, still lives in Loma Linda." LLUH and IAH students, staff, faculty, and community locals enjoyed food and communion to celebrate IAH's achievements, the beginning of their medical camp, and the rewarding relationship between the two institutions.
"It is appropriate to question the lasting value of such a trip," Dr. Hart reflected. "The clinical impact of corrective surgeries is significant while treating chronic diseases like hypertension and diabetes is of marginal help in the long term." Dr. Hart believes the real benefit of mission trips is the life-changing impacts on students.
"Trips like these create many teachable moments that will live with them forever," Dr. Hart said. " It is why we make these exposures to human needs an integral part of the Loma Linda University curricula."