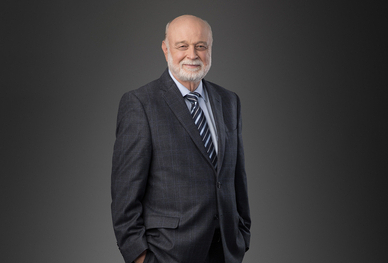 By djpotts - August 15, 2019
Loma Linda University Health president and CEO Richard H. Hart, MD, DrPH, has been recognized as one of "105 Physician Leaders to Know in 2019" by Becker's Hospital Review. This is Hart's second appearance on this list, the first coming in 2016. 
Becker's Hospital Review, a leading publication highlighting business, legal news and analysis for the hospital industry, recognized in its latest issue the top physician leaders of hospitals and health systems across the country.
According to the Becker's Hospital Review website, the individuals selected for this honor have demonstrated outstanding leadership and clinical expertise throughout their careers. Many of the physicians included have served in the top spots of multiple hospitals throughout their careers, in addition to community boards and national organizations. These physicians also led accomplished clinical careers, giving them unique insight into the healthcare industry.
"Richard Hart has been a visionary leader for this institution in many ways," said Kerry Heinrich, chief executive officer of Loma Linda University Medical Center. "His leadership has made a significant impact on this community, and in nations around the world. It is not surprising that Becker's Hospital Review has included him on this list. He clearly demonstrates what a dedicated servant leader can accomplish."
Richard Hart has served Loma Linda University Health since 1972, including serving as chair of the School of Public Health's Department of Health Sciences, director of the Center for Health Promotion, chair of the School of Medicine's Department of Preventive Medicine, dean of the School of Public Health, and president (previously chancellor) and CEO of the university.
Hart is also president of Adventist Health International (AHI), a nonprofit organization focused on upgrading and managing mission hospitals by providing governance, consultation and technical assistance to over 43 affiliated Seventh-day Adventist hospitals and 67 clinics throughout Africa, Asia, Central and South America, and the Caribbean. While not directly a part of the Loma Linda University Health system, AHI continues to work closely with the Global Health Institute (of which Hart serves as director) in collaborative efforts to provide aid to hospitals in need.
In addition to his numerous leadership and operational responsibilities, Hart also remains a practicing physician, seeing patients one day a week.